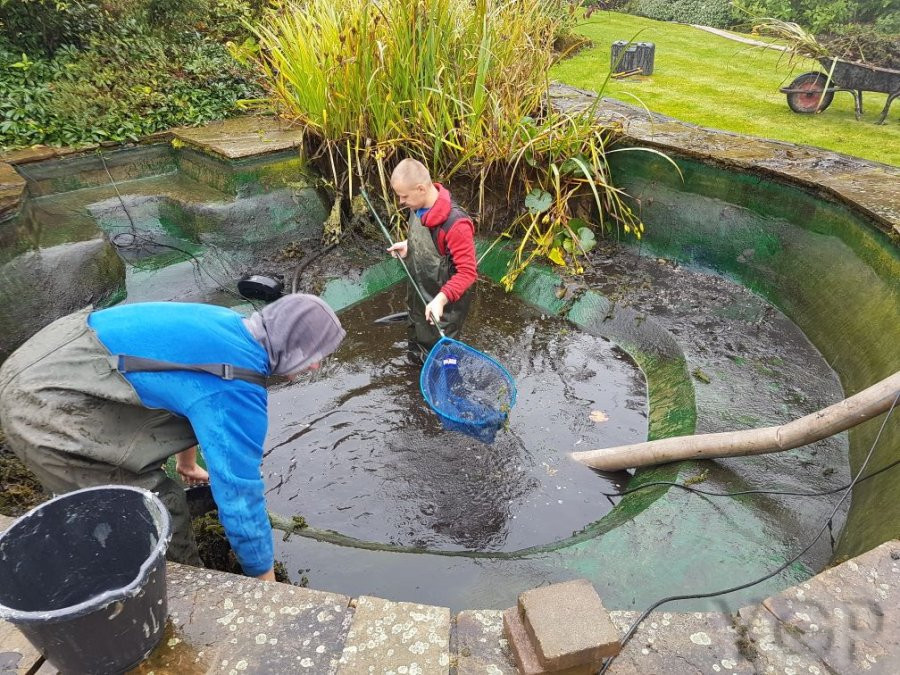 Pond Cleaning Service
Don't have the time or know-how to clean your garden pond? We can help!
Pond maintenance is our specialty
If you have a pond in your garden, it is undoubtedly one of the easiest and quickest ways to reduce stress and anxiety of daily, modern life. A garden pond provides a peaceful, quiet place for us to retreat us too, observe nature, and a chance for us to sit back and relax beside. It's a tiny area of natural paradise in our garden.
Alongside alleviating the day-to-day stresses, tensions and worries of life, having a koi pond in your backyard or garden is the perfect way to add beauty to any outdoor space. However, without regular care, maintenance and cleaning they can become quite wild looking!
Helping keep your pond healthy
Here at YGP Pond Services, we want to help you keep your pond looking beautiful all year round. No matter the season, we want you to enjoy spending time enjoying it! As garden ponds require regular and seasonal care, we offer excellent pond cleaning and maintenance services.
What type of pond cleaning services do we offer?
Keep your pond looking beautiful by hiring professionals extensive experience in pond maintenance and cleaning – we are confident you will be happy with the pond when you see the fantastic results pond cleaning brings. YGP Pond Services offer pond cleaning services for customers located throughout the UK, including Oxford and Cambridge.
Pond repairs

Surface cleaning

Dietary advice
A well-designed pond requires very little maintenance, however, seasonal pond cleaning is a very important aspect of owning a pond. The most important times of the year to carry out pond cleaning and maintenance are during the spring and autumn months. If you want to improve the water quality of your pond and keep it clean and healthy for fish and wildlife, call us today 01476 210 710.
Our pond cleaning services include:
Removing any fish – and keeping them safe during the pond cleaning

Carefully removing and hydrating any plants

Draining all the water

Removing excess organic debris, such as sludge, muck, and slime

Cleaning the filter media

Replacing and dechlorinating the water

Acclimatising the fish and plants to the new water conditions
Why not take a look at our portfolio of recent work and see how we could transform and clean your pond into something truly spectacular.
Our Pond Cleaning Process
Our pond cleaning process begins with draining the water from the pond correctly. If it is a fish inhabited pond, we make sure to catch and relocate any fish before removing and pumping out all the water. 
After this, we remove all decaying debris such as leaves, sticks and whatever else may be lurking in the muck and sludge! Then we power wash the entire pond, making sure to carefully clean all its filters.
If any rocks have fallen, or bulbs and lighting fixtures need replacing, this is the task we carry out next. We also cut back any dead pond plants, before then re-adding new water, making sure its de-chlorinated before re-introducing the fish – and that's it! We do the bulk of the dirty work, so you can enjoy the pond for the rest of the year, with very little maintenance.
Contact YGP Pond Services
Here at YGP Pond Services, we are experts in pond building, construction and maintenance, if you're interested in any of our services, please contact with our team on 01476 210 710, by emailing info@ygpservices.com or via our online contact form. We are happy to come and see you anywhere in the UK, including Oxford and Cambridge.
WE WILL BEAT ANY QUOTATION – simply contact us today for your free quote!