Natural Swimming Ponds & Natural Swimming Pools – Oxfordshire and Cambridgeshire
Imagine a personal swimming paradise in your garden, readily available for use whenever you like, no matter the time of year. An idyllic, outdoor pool provides the perfect spot to which you can easily retreat and spend the morning or late afternoon peacefully swimming in.
Swimming amongst aquatic plants and wildlife offers a refreshingly natural outdoor experience, no different from swimming in the sea. Here at YGP Pond Services, we specialise in creating natural swimming pools and ponds. Whether it's a new build project, or you would like to change an existing chlorinated swimming pool into a more natural alternative – we can help!
YGP Pond Services is ideally located in Grantham, Lincolnshire, meaning we can serve customers across the UK, including Oxford and Cambridge.
Prices of our natural swimming ponds are available from just £50,000.
Natural swimming pond in progress…Cambridge Cambridgeshire .

Natural Swimming pond ,Maidenhead London .

Oxford Oxfordshire

Germany Frankfurt

Boston, Frithville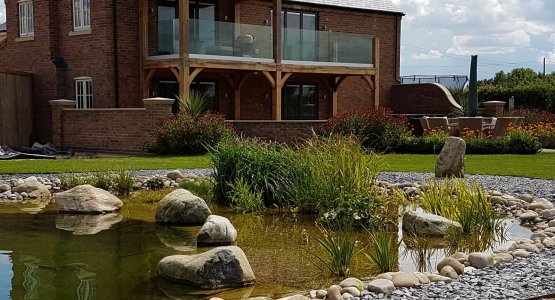 Donington, Lincolnshire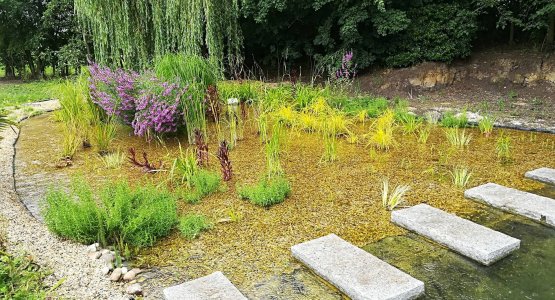 Newark on Trent, Norwell,Woodhouse.
Bridlington  East Yorkshire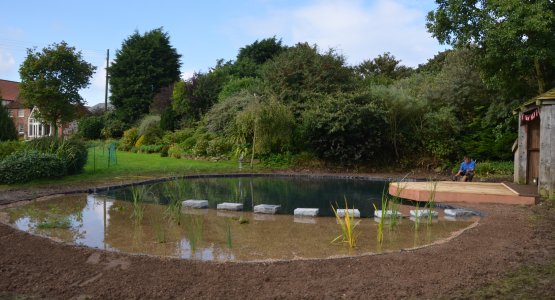 Maidenhead, London
What is a Natural Swimming Pond?
A natural, or ecological, swimming pond works differently to the more traditional swimming pool we all know. To begin with, they are not the traditional rectangular shape or filled with chlorine to ensure cleanliness. Instead, natural pools are often designed to imitate ponds and other outdoor bodies of water found in the wild. Very often, they have irregular shapes with rocks, waterfalls and plants incorporated into their design.
The natural swimming pool (NSP) trend began in Europe several years ago. Since then, it's gained increasing popularity, particularly amongst those interested in eco-conscious home and garden improvements.
Is a Natural Swimming Pool different to a Natural Swimming Pond?
Yes, there are varying differences between the two. The main being in how they filter water to ensure clean, hygienic water which is safe to swim in.
A natural swimming pool uses biological water filtration technology in order to keep the water clean. Biological filtration is a natural process that does not use any chemicals. Whereas a natural swimming pond has a balanced ecosystem that keeps the water clean and hygienic, without any filtration technology added. Instead, a swimming pond needs plants to keep the water clear – at least 50% of the pond needs plant life! 
Natural Pool 
Natural Pond 

The water stays clean without needing any plant life (unless you'd like them for the aesthetic!)

Can be heated or covered

Regular low maintenance required

In order for the water to stay clean and to create a balanced ecosystem, at least half of the pond needs a dedicated plant zone

Cannot be heated or covered

Only needs to be cleaned during the winter
Why Choose a Natural Swimming Pool or Pond?
Organic swimming ponds and natural pools are visually pleasing with lots of added benefits for both you and the environment:
Enjoyable all year round

Easy maintenance and a cheaper alternative to the conventional pool

Naturally filtered and chemical free

Offer a unique experience to swim in clear, life-sustaining, naturally pure water
Our pools effortlessly blend into their outdoor surroundings and make a stunning garden feature, changing with each season and bringing year-round beauty. Not only do these swimming ponds match and enhance the aesthetic of your garden, but they encourage wildlife, are easy to maintain, and you don't need any harmful chemicals in order to clean them – they are self-cleaning and completely natural!
Dive into nature with our natural swimming ponds
Is it Safe to Swim in a Natural Pool or Pond?

Swimming in an ecological pool or pond is safe for both you, the environment, and any plant or aquatic/ non-aquatic life in the area. Although it is safe to swim in these pools, it is important to remember that biological swimming pools are a natural hub for wildlife and insect activity. They remain a part of nature and all kinds of wildlife will want to inhabit and move into the newly created space for them. We can draw a close comparison with swimming in the sea, where a host of living creatures and plant life is commonplace.
The Health Benefits of a Natural Pool

There are many health benefits for you and the family. As these pools do not use chlorine, the water is softer and cleaner for those swimming and acts as a natural balm for the skin. This all means no itchy stinging eyes, rashes, or allergic reactions – and the wildlife absolutely love it too!
Pool Maintenance during the Autumn and Winter
It is only natural, particularly during the autumn and winter, for leaves, pollen, seeds, sand, clay particles, dead insects, feathers, etc. to gather on the surface or bottom of the pool. This sadly can't be avoided, but you can use a skimmer or pond vacuum cleaner to ensure this debris is removed. The best pond maintenance tools for your pond or pool feature have an easily removable filter basket that collects the unwanted debris for easy disposal.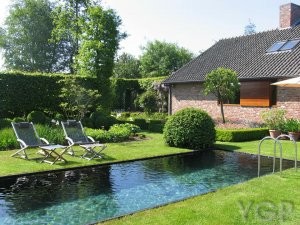 Natural Swimming Pond Design
A natural swimming pond satisfies our longing for rest and relaxation. The peaceful water adds a new dimension to the garden, creating a calming and soothing effect. A natural swimming pool will look stunning throughout the year and its also an effective way to enhance the beauty of your garden in the winter.
Here at YGP Pond Services, we believe that quality natural swimming pond design services are one of the most important aspects of ensuring a project's success.  The design should not only establish the aesthetics of a project, but should also address the real world constructibility, the long term functionality and the ease of maintenance for an installation. 
A natural swimming ponds design should take into account the project budget, the schedule and the unique site conditions to make the customers functional and aesthetic desires a reality. Our company can function as the lead designer on a project or as a consultant who works with other design and construction professionals.  A well-designed project will make construction easier and more efficient, function better, and provide for convenient maintenance for the life of the installation.
No matter what the style, we have the experience and willingness to work with you to provide the exact pond design that you're looking for.
A well designed natural swimming pond will function better, require less maintenance, provide the customer with the best quality installation and achieve their aesthetic goals.
Contact YGP Pond Services
Interested in finding out more about our natural swimming pools and ponds? Get in touch with our specialist team today on 01476 210 710, by emailing info@ygpservices.com or via our online contact form. We are happy to come and see you anywhere in the UK, including Oxford and Cambridge.