Natural Swimming Pond Installation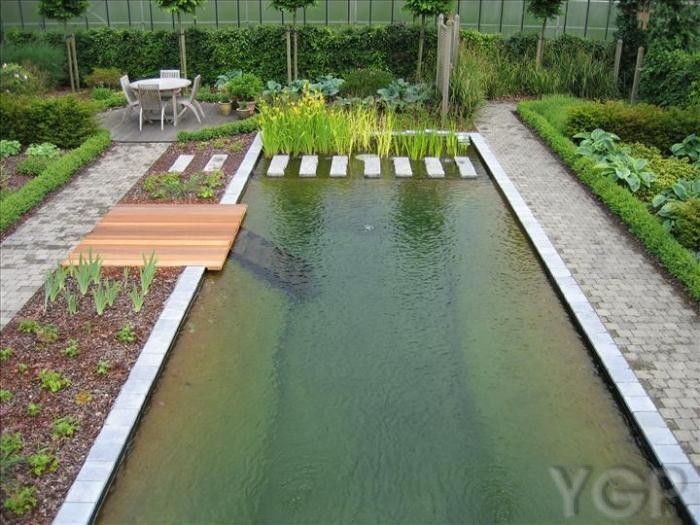 Installing a Natural Swimming Pond
Our construction team always consists of at least 2-4 core employees who will have built dozens of similar swimming ponds.  They will work on every aspect of the construction to ensure the end result is achieved as planned.
For "part-build" projects, i.e. if you or local contractors are carrying out some of the construction work, we have a detailed work plan which we suggest the local team follows closely. We also want to be kept informed with regular photos of the site to ensure that everything is progressing as planned, and we can regularly visit the site as required.
We own and operate our equipment and have the experience to know which tool is right for the job.  We've acquired equipment that allows us to build more efficiently and when necessary, developed our own.  No pond, water feature, bio-pool, fountain or filtration system is too big or too small for us to handle.
Prices of our natural swimming ponds start from just £50,000.
NSP Facts
Natural swimming ponds are 50% planted and 50% swimming area
They don't require covering and will hover around 19-25 degrees during the summer
Your pond will serve as an important habitat for an array of wildlife
Swimming pond are cheaper than pools over time due to the vastly lower maintenance costs
NSP Benefits
Swimming ponds are very low maintenance as they don't need any chemical dosing or filtration systems
Your swimming pool will also use less water as they don't need constant emptying and filling.
How Does the Water Stay Clean in a Natural Swimming Pond?
Natural swimming ponds do not use active technical filtration; its the plants that do all the work. A natural pond consists of 2 balanced sections: half-plants and half-swimming area. The plants work to stop algae growth by removing phosphorus and nitrogen before it can multiply, leaving you with a clean and clear swimming pond. These are stunning garden features. Natural swimming ponds also change constantly with the seasons, providing year-round beauty and they mature over time.
CONTACT YGP POND SERVICES
Here at YGP Pond Services we are experts in pond building, construction and maintenance, if you're interested in any of our services, please contact with our team on 07774883667, by emailing info@ygpservices.com or via our online contact form. We are happy to come and see you anywhere in the UK, including Oxford and Cambridge.