At The YGP Pond Specialists, we have many years of experience in designing and building ponds of every type and size.
Initially, we will visit you for a full consultation service to discuss your ideas and advise on design options and suitability. We will talk about the type of pond you would like and carefully choose where it will be sited, taking into account the size and style of your garden, ground conditions, practical considerations and cost implications.
Following this, we will come back to you with an estimated quote for the proposed project. We are able to provide a hand-drawn design, however, in most cases, customers are happy to discuss ideas and look at material samples.
When it comes to building a pond, there are a number of potential problems that could arise if the job isn't done properly, incurring unnecessary costs and a lot of hassle! This is where our pond building services can make a difference. The Pond Specialist can take care of the whole project, from thorough planning to sourcing the right equipment and materials, before constructing a pond that is built to last. Not forgetting the fun bit of course – we can help you choose plants and advise on buying and taking care of fish stock. Most of the time, all building work can be completed by the team at The YGP, however, we do call upon our trusted subcontractors, including electricians and tree surgeons, where necessary.
We always aim to leave a site as we found it – there is nothing worse than clearing up other peoples mess! At the YGP specialist, we adopt a very friendly and considerate work ethic, with minimal disruption to our client and their garden.
Lincoln North Hykeham ,Large pond building,new filter system,new waterfall build ,crystal clear pond .

Gosberton, Spalding ( Wildlife pond refurbishment, 1mm Rubber liner fitted )
Brant Broughton, Lincoln ( Koi pond building. New filter system fitted )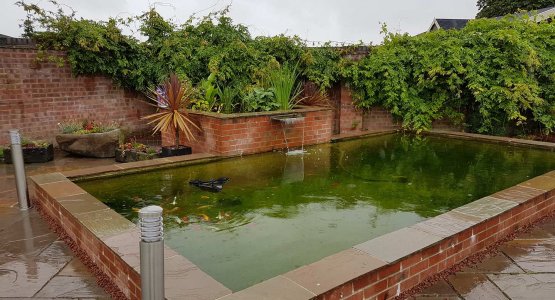 Sleaford, Leasingham (Wildlife, fish pond build, oase skimmer fitted, crystal clear water warranted)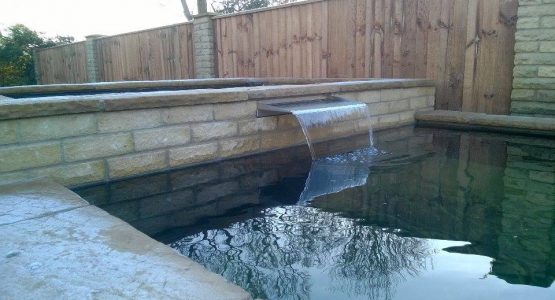 Koi pond build (Foston, Grantham)
Koi pond building, skimmer, bottom drain ( Nottingham,Ruddington)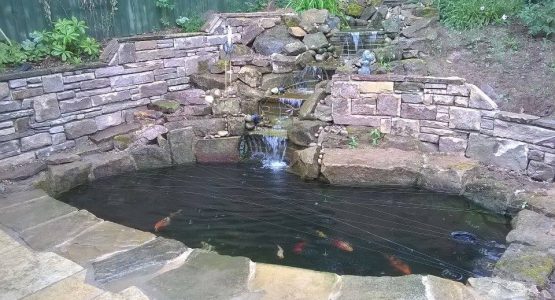 Pond Refurbishment, Loughborough (new filter system,new skimmer,with this system you can expect crystal clear pond)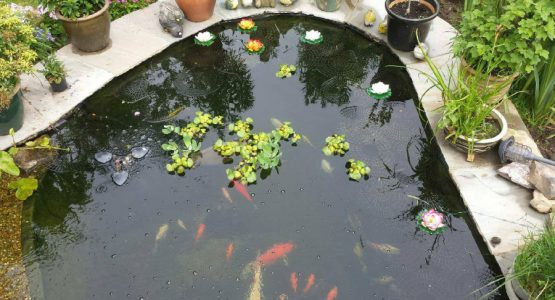 Hambleton,Oakham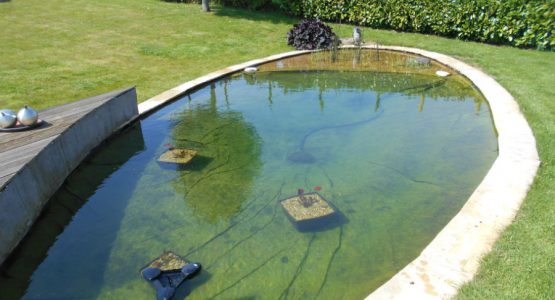 Polebrook, Oundle (Pond renovation)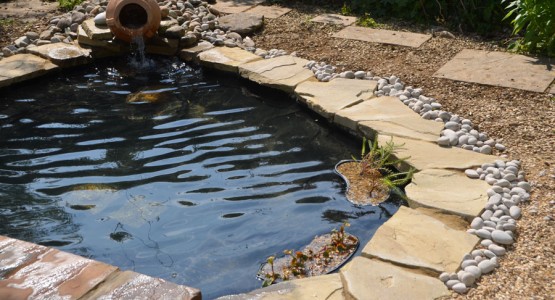 Leicester, Leicestershire ( Koi pond with viewing window build,Sieve filter system etc.)
Client says:
Aigars (YGP Services) is very professional in his approach. He was communicative and tailored every aspect of the pond build to my specification and to budget during the quotation period. He discussed in detail, the materials to be used and the price, whilst doing so giving his input on the design of the pond (He is very proud of his work and very knowledgeable).

His knowledge of the processes, materials and strategy used in pond building are second to none.

He and his team, worked consistently and tirelessly during the construction of my pond. They faced numerous challenges to the build of the pond, due to the complexity of the design (block and brick construction incorporating a blade waterfall and viewing window). Aigars and his team persevered, overcame the challenges and delivered an exceptional pond that more than meets my expectations. As you can see from the pictures it is simply stunning, a focal point for my garden.

I cannot wait to see how the pond matures, given time to weather in over the following months…

I would not hesitate in recommending Aigars to perform any pond building or maintenance work for my friends or his future prospective clients.

I will be utilising Aigars expertise for any future pond or gardening requirements I have.
Gosberton, Spalding( Pond Refurbishment, new filter system, rubber liner)
Barnack, Stamford.
Hambleton, Oakham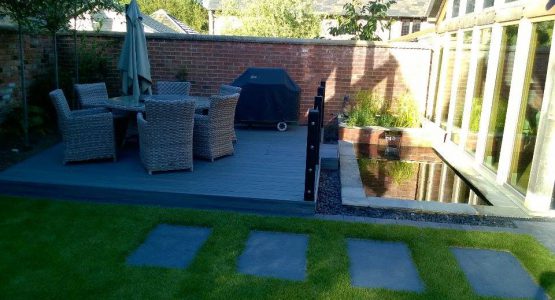 Peterborough, Norman Cross.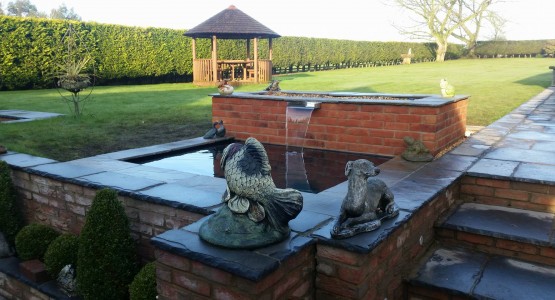 Stamford, Lincolnshire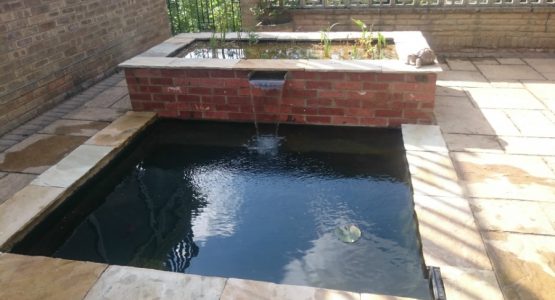 Pond stream renovation ( Market overton,liner replace,lights fitted,filter fitted,fountain fitted,control remote junction box fitted )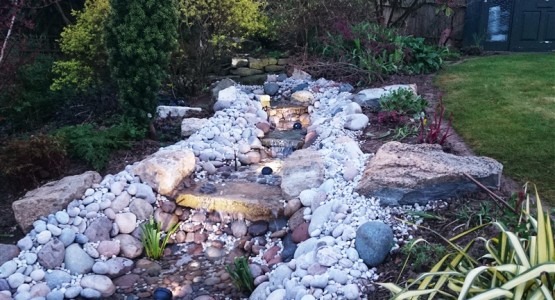 Peterborough, Cambridgeshire (Pond renovation, new filter system build, light fitted, skimmer fitted, with this filter sysytem,you can expect crystal clean pond )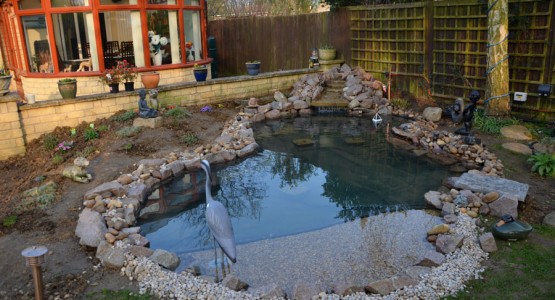 Client says:
I first saw Aigars work whilt browsing the Internet and was very impressed with his work. After reading the testimonies I had no hesitation in using him for our new pond. I have nothing but admiration for Aigars, he takes great pride in his work to last little detail and he is very knowledgeble on all aspects of pond design and installation. I would recomend highly his services.

Brian Retberg. Peterborough.
Lincoln, Lincolnshire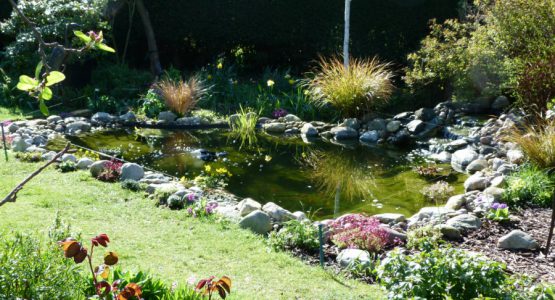 Nottingham, West bridgford (Jesse Gray Primary School)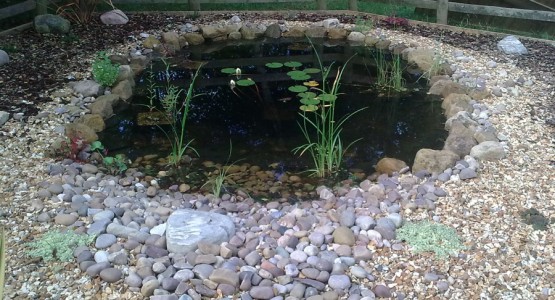 Nottingham, Bramcote
Client says:
I wanted to have a pond with a stream and crystal clear water. Aigars made this a reality for me. I truly appreciated his honesty on what was possible and what wasn't, his patience to find the right materials, and his ambition to deliver great results. His courteous manners and availability are definitely a reason to stick with this company. After the project one year ago, I have recently called them again for a maintenance job and I am very happy. Great job!
Peterborough, Cambridgeshire
Nottingham, Nuthall, Unfortunately there are no pictures of the pond before.
Grantham,Koi pond building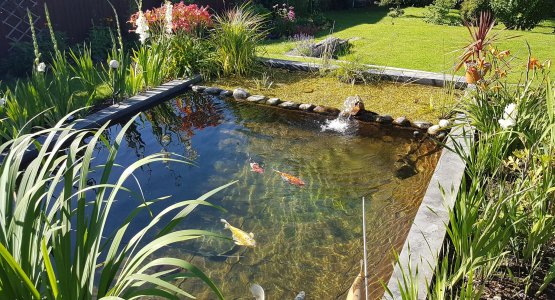 Client says:
Aigars and the team
I would like to say a big thank you for my new pond. It's crystal clear and I can't wait for the weather to warm up so I can put some more Koi into it.
And to anyone looking for a company to build a new pond or renovate an old one then look no further this team are great, on time, tidy and work whatever the weather.

JRB
Grantham